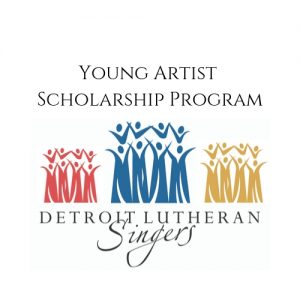 The Detroit Lutheran Singers are committed to their mission of promoting excellence in sacred choral music. To meet the goals of this mission, the DLS is proud to offer a scholarship opportunity to current college students and high school Juniors/Seniors who also have a passion for sacred music. Candidates interested in this opportunity will be offered an audition opportunity and be asked to participate in the Spring 2023 Concert Series with the Detroit Lutheran Singers as a member of the choir.
Up to four Young Artist Scholarships in the amount of $500 each will be awarded. Auditions will be held in January 2023 to select winning candidates. Candidates must complete an application, audition, and if selected, fulfill the participation requirements of 6 rehearsals and 4 concerts in order to become a scholarship recipient in May 2023.
Candidates may apply by completing the 2022 –2023 Detroit Lutheran Singers Young Artists Scholarship Application and submitting it by e-mail to detroitlutheransingers@gmail.com by December 31, 2022. Applications will be emailed to singers who complete the  Contact Us information form and include a comment requesting an application.
Applicants will be notified of their acceptance and a live audition time will be arranged after their completed application forms have been received and reviewed. The live audition will include singing a solo of classical nature selected and prepared by the candidate, and sight-singing their voice part of a Bach Chorale. Auditions of the finalists will be adjudicated by the director, Christopher Hall, Section Leaders from the DLS. Accompanist arrangements can be made for solo pieces if needed.